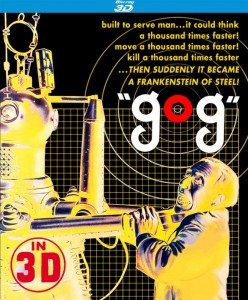 Kino Lorber Studio Classics is proud to announce the Blu-ray release of Herbert L. Strock's 1954 3-D sci-fi classic GOG, presented in a new HD restoration by the 3-D Film Archive. This Atomic Age cult favorite, starring Richard Egan, Constance Dowling, Herbert Marshall and William Schallert, tells the story of a special agent sent to investigate possible sabotage at a secret space research station, only to find it under the control of the Supercomputer NOVAC and two experimental robots, GOG and MAGOG, resulting in a terrifying battle between man and machine.
Long unavailable in 3-D, GOG will finally be seen in its original format when it is released on 3-D Blu-ray by Kino Lorber on its Studio Classics label on March 1, 2016, in a painstaking new HD restoration by the 3-D Film Archive that returns the film to its original 3-D glory. Kino Lorber has previously released the 3-D Film Archive's restorations of The Bubble and The Mask on Blu-ray. GOG comes to Blu-ray with the option to play the film in either 3-D or 2-D, and is packed with an array of special features including audio commentary by film historians Tom Weaver, Bob Furmanek and David Schecter, a 3-D restoration demo, a 2003 interview with director Herbert L. Strock, an archival interview with cinematographer Lothrop B. Worth, and a 3-D trailer gallery. The SRP for the Blu-ray is $34.95.
GOG was photographed in the Natural-Vision 3-D process and originally released in 1954, just as 3-D movies were quickly falling out of fashion at the box office. As a result, it had only five theatrical screenings in 3-D before continuing its theatrical release in 2-D, and was subsequently sold to television in a black-and-white version. Eventually, the 35mm left camera negatives were lost, and for nearly five decades, GOG has been completely unavailable in 3-D.
In 2001, 3-D Film Archive founder Bob Furmanek located the only surviving left 35mm element: an original 1954 Pathe color release print that was completely faded with no yellow or cyan information. For the 2016 3-D Blu-ray release, Kino Lorber secured scans of the surviving 35mm left/right elements and Greg Kintz began the painstaking shot-by-shot restoration process.
"Of all our restoration projects, GOG is the most rewarding to me personally," said Furmanek. "When I began my search for lost 3-D elements in the early 1980s, GOG was at the top of my want list. I knew director Herbert L. Strock quite well. He was very proud of his work on the film and lamented the fact that it was lost in 3-D. After extensive research, I found the lost left side 35mm print in 2001. I tell the full story of this exciting discovery in the commentary track on the Blu-ray. After suffering through murky, black and white, flat and full-frame 16mm prints for decades, it's a real thrill to finally see GOG finally restored as the filmmakers intended in vibrant 3-D, color and widescreen."
Greg Kintz, 3-D Film Archive Technical Director, added, "GOG was certainly our most challenging project to date. Our usual timeline for a 3-D feature restoration is three months:GOG was on the operating table for five months. The only surviving 35mm left side element was totally faded with no yellow or cyan information whatsoever. Every single shot in the film required up to seven levels of correction, including color restoration, left/right panel matching, flicker reduction, image stabilization, detail extraction from the superior right side element, stereoscopic vertical alignment and dirt/damage clean-up. We're very proud of the final result in bringing this lost 3-D film back to life."
For more information on the restoration of GOG, including stills and original promotional artwork, please visit the 3-D Film Archive website, or click here to watch a video with examples of the restoration process.
Synopsis:
Newly restored in HD and 3-D!
In a remote, underground research laboratory two scientists, engaged in space travel research, are frozen to death in a cold chamber when their instruments comes under the control of an unknown power.
A security agent, Dr. David Sheppard (Richard Egan,The 300 Spartans) arrives at the secret space research base, home of two experimental robots to investigate the possible sabotage. Early in his investigation, Sheppard finds that the underground laboratory under the control of the Supercomputer NOVAC and experimental robots GOG and MAGOG.
Herbert L. Strock (The Crawling Hand) directed this sci-fi/horror classic with a stellar cast that includes Constance Dowling (Black Angel), Herbert Marshall (The Letter) and William Schallert (TV's The Patty Duke Show).
GOG has been restored by the 3-D Film Archive.
GOG 3-D
Blu-ray Street Date: March 1, 2016
Blu-ray SRP: $34.95
Blu-ray UPC: 738329175924
Genre: Sci-Fi
Director: Herbert L. Strock
Starring Richard Egan, Constance Dowling, Herbert Marshall, William Schallert
Special Features:
Audio Commentary by Film Historians Tom Weaver, Bob Furmanek and David Schecter
A 3-D Restoration Demo
2003 Interview with Director Herbert L. Strock
Archival Interview with Cinematographer Lothrop B. Worth
3-D Trailer Gallery
Technical Specs:
1954 | Color | 85 minutes | 1920x1080p (1.66:1) | Not Rated