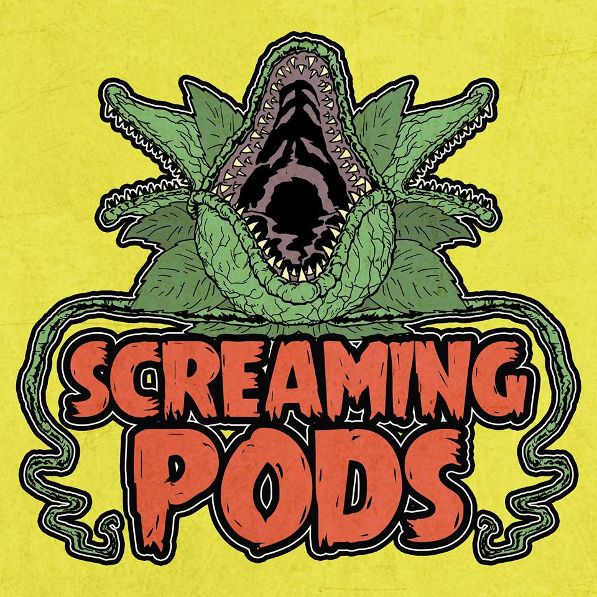 The creator and host of The Screamcast Podcast, Sean Duregger (@seanCduregger), has created Screaming Pods (@ScreamingPods), a podcast network.
The network officially launches today (2/1/2018), you can subscribe to our network feed on iTunes here: https://t.co/KrpOAZFqkD
Our logo was created by Derik Hefner. Check out his work at http://Derik-Hefner.squarespace.com.
Screaming Pods is a co-op of independent broadcasters & shows dedicated to producing quality content about topics they are incredibly passionate about while deepening connections within their respective communities.
Shows range from humorous entertainment (The SPLATHOUSE, The SOVPOD, You Can't Sit With Us), film reviews (The Screamcast, Just The Discs, Bloody Popcorn), to philosophical dialogues (The Life After, The AxPx). Here you'll find great shows with high standards in production and conversation.
Our current line-up is:
The Screamcast: A Horror focused podcast with Sean Duregger, BJ Colangelo, Stephanie Crawford and Brad Handerson
THE SOVPOD: A podcast covering every shot-on-video movie ever made with Mike Delaney and Brad Henderson.
Splathouse: A small group of film, theatre, and music artists dedicated to furthering the conversation around cult films with Mike Delaney, Sarah Coykendall, Jim Schiller and John Terrell.
Just The Discs: A podcast about Blu-rays. Each episode, Brian Saur (of Rupert Pupkin Speaks) will go through a stack of discs from various distributors and talk about them.
Bloody Popcorn: Join the Bloody Popcorn team — Joanna and Johnny — every two weeks as they discuss a variety of topics pertaining to the horror/off-beat genres.
Xenopod From The Year 5000: A monthly Science Fiction focused podcast with Sean Duregger.
You Can't Sit With Us: A Queer Culture and Cult Cinema podcast with John Doolan & Spencer Swindon. We love horror movies, RuPaul's Drag Race, vintage porn, our TVs loud, and our homosexuals FLAAAMING.
Brew Bloods: Drink beer, think beer! Join Marc and Dustin each week as they pick a craft beer, drink a craft beer, and rate a craft beer, plus dispensing education and laughs along the way.
At The Fire: At the Fire brings back the memories of telling scary stories around the campfire. Jillian and Ben share stories about anything and everything weird, unusual, and just plain creepy. Come share your story, At the Fire.
The Life After: Each episode, hosts and formerly-committed Christians, Brady Hardin and Chuck Parson, interview someone who has also left their religion behind. Topics include discovering sexuality, growing up in a Christian background, parenthood after faith, rebuilding a personal morality, crushing the patriarchy, navigating complex family dynamics, thriving after divorce, embracing homosexuality, healing from spiritual abuse, acknowledging Religious Trauma Syndrome, and much, much more.
Ezer Uncaged: Ezer Uncaged is a conversation in progress between Lauren RE Larkin and Sarah Taras focusing on Biblical discussions about the Gospel, Jesus, womanhood, and gender relations.
The Armchair Philosopher: Conversations about faith, hope, doubt, disbelief, and everything in-between with Sean Duregger.
As we grow, a few more shows will be joining the family. Follow @ScreamingPods for more info! http://ScreamingPods.com is live right now.