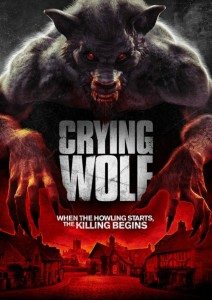 A blood moon rises this December when director Tony Jopia's goosebump-stirring horror-comedy Crying Wolf premieres on VOD.
A "fun, fast-paced werewolf romp" (Dread World) Crying Wolf tells the story of strange and weird goings on in a little English village called Deddington. The gruesome death of local girl Charlotte by a rabid monster causes alarm and revulsion – before desperate reporters, crazy detectives and revenge-seeking hunters descend on the scene!
Legendary scream queen Caroline Munro (Maniac), Joe Egan (Sherlock Holmes) and Kristofer Dayne (Rush) star in what critics say is "a refreshingly funny movie with plenty of slapstick gore and some nice genre in-jokes" (Spooky Isles).
Crying Wolf is released December 12th from Uncork'd Entertainment.