WE'RE BACK!  –  The West End becomes the Dark Heart of London once again as FrightFest 2017 takes over 5 screens in celebrated Leicester Square. And we've made it to our 18th year… finally we're adults!
The whole cinema landscape is changing and The Horror Channel FrightFest is listening. We know you want to see it first, see it fast, and see it in an environment that is second to none. That's why we have what we believe is the finest fare of fear and foreboding ever assembled and are showcasing the superlative selection in premium surroundings. From old favourites by the people we love to the brand new by those we soon will, FrightFest has been scouring the globe with fingers firmly placed on the pulse of first class pandemonium and totally innovative panic. Ladies, gentleman, fanboys, and fangirls, we proudly present the optimum line-up of hand-picked horror, science-fiction, psycho thrillers and cult chillers to commemorate our 18th year of providing you with a full shocker service.
Three of the horror genre's most popular and beloved franchises are given their World Premieres at this banner edition of FrightFest, the United Kingdom's biggest, best and brightest fantasy festival. Cower at the latest twist in the 'Good Guy' doll saga in Don Mancini's criminally entertaining CULT OF CHUCKY. Tremble in shock at Julien Maury and Alexandre Bustillo's LEATHERFACE, the stunning prequel to the terror classic THE TEXAS CHAIN SAW MASSACRE. And quake in fear at a version of HATCHET you've never seen before, orchestrated by director Adam Green to celebrate the 10th anniversary of his cursed Victor Crowley creation.
Another 15 World Premieres include Dominic Brunt's sexy shocker ATTACK OF THE ADULT BABIES, Adam Wingard's supernatural manga DEATH NOTE, Daniele Misischia's undead Romageddon THE END? and Christian James' bloodsucker comedy FANGED UP. Of 18 European premieres, Joe Lynch's high rise MAYHEM, Ryan Prows' cult-in-waiting LOWLIFE, Mickey Keating's eye-shattering PSYCHOPATHS, and Trent Haaga's stunning 68 KILL are the tip of the ice-pick. And the 16 UK premieres embrace high voltage THE VILLAINESS hot from Cannes, Alex de la Iglesia's bleakly comic THE BAR, Miguel Angel Vivas' remake of the French extreme thriller INSIDE and Tyler McIntyre's amazing TRAGEDY GIRLS, where HEATHERS meets SCREAM in a dream combo.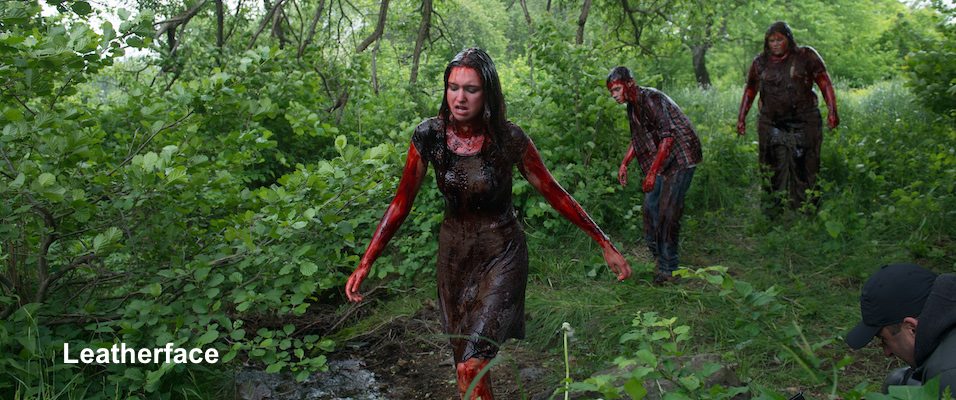 But wait, there's so much more in the eclectic programme, one so stuffed with fantastic goodies we've had to take over both screens at the Prince Charles Cinema too alongside our three at the Cineworld Leicester Square. The Horror Channel FrightFest 2017 means more choice of tomorrow's greatest films today because our devoted audience deserves the best delivered with the care and attention you have come to expect. Team FrightFest has deliberately angled our selections this year to be so fresh, up-to-the-minute, and beyond the unpredictable to stimulate your nerve-endings and elicit screams of satisfaction through their innovation, uniqueness, and total individuality.
So while we have the latest episodes in the brand monsters you love, we are also offering films ripe for their own franchise opportunities. Like THE TERROR OF HALLOWS EVE, STILL/BORN, GAME OF DEATH, INCONTROL, and MINDHACK. There's also our accent on such rising talent as Preston DeFrancis' RUIN ME, Natasha Kermani's IMITATION GIRL, Clay Staub's DEVIL'S GATE, Norbert Kell's REPLACE, Caroline Labrèche and Steeve Léonard's RADIUS, Samuel Galli's OUR EVIL, Andrés Goteira's DHOGS, David Chirchirillo's GOOD MATCH, Graham Skipper's SEQUENCE BREAK, Tini Tuellman's FREDDY/EDDY, Haritz Zubillaga's THE GLASS COFFIN, Scott Poiley's EXHUME, Adam Graveley's 3RD NIGHT, Michael Mongillo's DIANE, Peter Ricq's DEAD SHACK and Carlos Algara and Alejandro Martinez-Beltran's VERONICA.

Continuing The Horror Channel FrightFest's important and vital commitment to highlighting the cream of the homegrown crop, our British strand is well-populated too by Dominic Bridge's 2 PIGEONS, Benjamin Barfoot's DOUBLE DATE, Matthew Heaven's ACCOUNTABLE, Tom Paton's REDWOOD, actor Jason Flemyng's feature debut EAT LOCALS, Louis Melville's BOOTS ON THE GROUND, Hendrik Faller's MOUNTAIN FEVER, Michael Boucherie's WHERE THE SKIN LIES, and Peter Stray's CANARIES. The latter five titles comprise FrightFest's increasingly popular 'First Blood' strand.
Three documentaries will receive their eagerly awaited premieres at FrightFest this year. KING COHEN: THE WILD WORLD OF FILMMAKER LARRY COHEN is a dazzling career overview of the maverick director behind such classic horrors as IT'S ALIVE, Q THE WINGED SERPENT, fantasy television series like The Invaders, HELL UP IN HARLEM Blaxploitation, recent releases CELLULAR and soon the MANIAC COP remake. We welcome back on screen Kane Hodder, everyone's favourite Jason Voorhees in the FRIDAY THE 13th series, with his moving and eye-opening TO HELL AND BACK: THE KANE HODDER STORY. Finally there's the extraordinary MANSFIELD 66/67, a super Hollywood Babylon-style whisk through the final years of movie goddess Jayne Mansfield's life and untimely, possibly Satanic, death.
Other attractions include KILLING GROUND, Emilia Clarke in VOICE FROM THE STONE, Robert Englund in NIGHT WORLD, the French graphic novel adaptation ALONE, the outrageous gore-fest MEATBALL MACHINE KODOKU, the hilarious TOP KNOT DETECTIVE, and the Japanese TV series Crows' Blood. Because they proved so popular at our FrightFest event within the Glasgow Film Festival earlier this year, we are rescreening Simon Rumley's FASHIONISTA and Colin Minihan's IT STAINS THE SANDS RED so our London audience can see them in all their glory.  And our retrospective restoration strand highlights the underrated British horror DREAM DEMON, RETURN OF THE LIVING DEAD III, two classic Hammers, BLOOD FROM THE MUMMY'S TOMB and DEMONS OF THE MIND, plus the longest version found of the seminal proto-giallo, DEATH LAID AN EGG.  Don't forget our three SHORT FILM SHOWCASES and the two Duke Mitchell sessions either, one showing the Austrian chiller COLD HELL, the other being their highly-anticipated party night.
Guest will be announced soon….
Ticket info here.