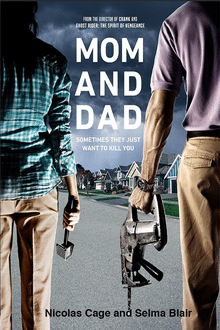 Momentum Pictures will release Mom and Dad  in theaters, on VOD and Digital HD on January 19, 2018.
Mom and Dad stars Oscar winner Nicolas Cage (Leaving Las Vegas, Raising Arizona), Selma Blair (Hellboy, Cruel Intentions), Anne Winters (13 Reasons Why, #RealityHigh), and Zackary Arthur (Transparent, The 5th Wave). Written and directed by Brian Taylor (Crank, Ghost Rider: Spirit of Vengeance), the film marks his first solo effort as a writer.
Nicolas Cage and Selma Blair star in this pitch-black horror-comedy about a worldwide mass hysteria where, for 24 brutal hours, parents turn violently against their own children.
Your parents brought you into this world and they most certainly can take you out of it…even if they have to hunt you down first.