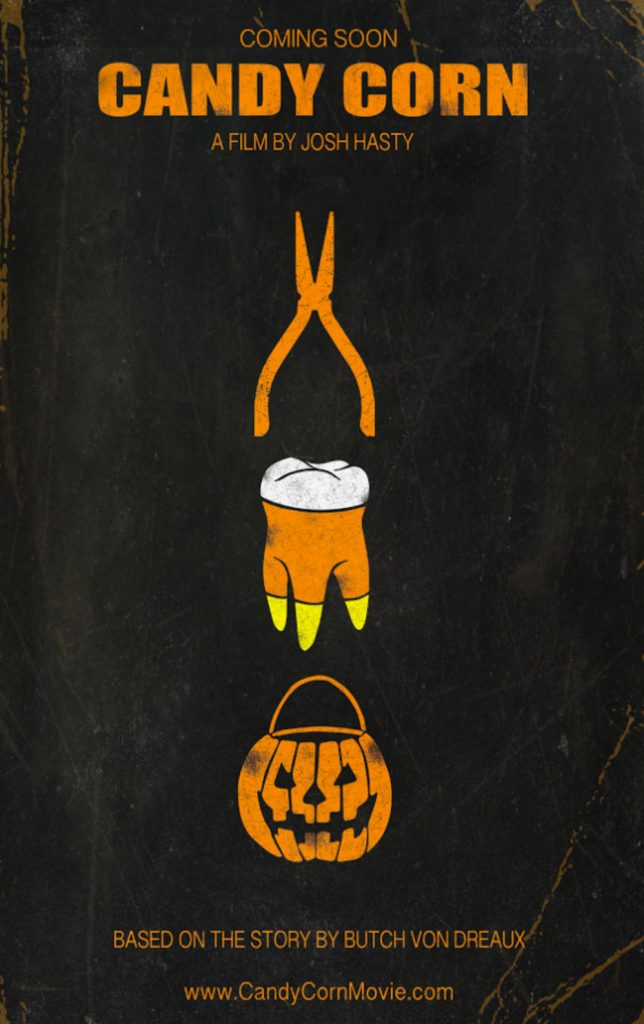 Buzz has been growing rapidly around the new indie film, Candy Corn, from Josh Hasty (Director, In Hell Everybody Loves Popcorn) and Butch Von Dreaux (Butchovision). The film, which stars Pancho Moler (Rob Zombie's 31), has gained so much interest from fans that Hasty and Von Dreaux have decided to launch a crowdfunding campaign to get the fans involved. The 31-day campaign, which launched at midnight, has already exceeded 5% of its goal and is filled to the brim with perks from industry giants such as Trick-or-Treat Studios, Fright Rags, Forgotten Saints L.A., and Butchovision. Some of the perks include apparel, accessories, one-of-a-kind masks, memorabilia, and unique opportunities to be a part of the film.
The campaign includes a 5-minute scene directly from the movie to show the backers and fans exactly what they are supporting. Hasty and Von Dreaux have been able to amass a small, but fiercely talented crew to deliver the best possible film on a tight budget. The recently released scene has already received an overwhelming amount of positive feedback.
Candy Corn was created by Von Dreaux and written and directed by Hasty. The passion behind this project stems from a love of all things horror. Both Von Dreaux and Hasty felt that there was a void in the horror film industry and wanted to create a project that was an ode to classic horror films. And so far, it appears that the fans agree.
As the campaign progresses more perks from known horror brands will be announced and added. Many of the items are one of a kind and limited, and so they will sell out fast. For more information and to join this project, visit
For more information and to join this project, visit www.candycornmovie.com/.