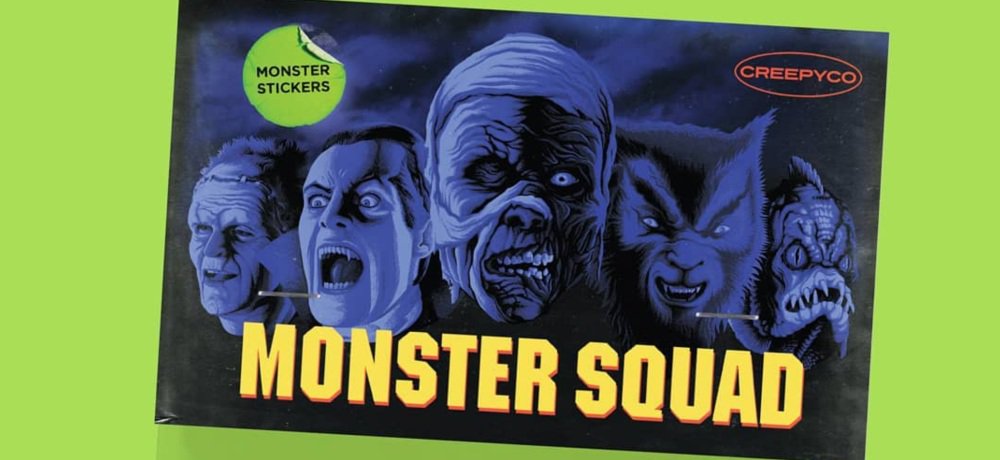 Squad Button-Up Shirt: "The Squad is back and fully represented as a heart-stopping button-up shirt. Catch the eye of every human and monster with beautiful, colorful renders of the five biggest baddies in the world!
Illustrations by Ryan Brinkerhoff | Pattern design by Kellie Taylor
Ultra fine 100% cotton poplin fabric (read more below)
Buttery smooth fabric that has a great flow and body drape
Button down collar with a front chest pocket
THE FABRIC:
Our shirts are currently made with an ultra light cotton poplin. The weave is very fine. The light weight of the fabric does not indicate inferior quality. Rather, it was hand chosen by us for its feel, drape, and comfort. It is soft, smooth, moves well, and will dry relatively wrinkle-free if shaken and placed on a hanger.
Price: $ 39.99″
Monster Squad Sticker Pack: "Ready your nards, the Squad is back!
The full set includes 5 colorful, weatherproof stickers; each showcasing colorful renditions of classic monsters (Count Dracula, the Gill-man, Frankenstein's Monster, the Mummy and the Wolf Man)! Slap these baddies anywhere you wish, but keep the amulet close by.
Illustrations by Ryan Brinkerhoff
Each between 3.5 – 4″ tall
comes bagged with a custom header card!
glossy, weather-proofed vinyl sticker
Price: $7.99″