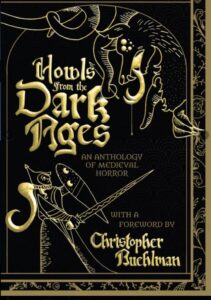 Howls from the Dark Ages
PL MacMillan & S Forse (eds.)
HOWL Society Press  (2022)
Reviewed by Mario Guslandi
An anthology of medieval horror stories by a bunch of contemporary writers, all belonging to the HOWLS (Horror Obsessed Writing and Literature Society) community based at Discord, promises to be a lot of fun and, believe me, it is.
Don't take me wrong, I'm not saying that all the eighteen contributions are unforgettable masterpieces, but certainly the average quality of the included stories is more than satisfactory and some of them are really worth a special mention.
"Brother Cornelius" by Peter Ong Cook describes how terrible secrets hiding in the basement of a monastery are discovered by two monks, while "The Mouth of Hell" by Cody Goodfellow is a vivid, quite enjoyable  gothic feast of demons and sinners.
CB Jones provides "The Forgotten Valley," a very atmospheric tale where the supernatural enters the life of  two young women in love with the same man.
"White Owl" by Stevie Edwards is a splendid dark fable, where human feelings and supernatural events blend to disclose the unfathomable secrets of a small village community.
My personal favourite is "The Fourth Scene" by  veteran Brian Evenson, an excellent, enticing story revolving around the scenes depicted in an old tapestry, telling a terrible story which keeps repeating itself.
In short, a refreshing anthology with a distinctive gothic taste, which will give you the possibility to get acquainted with some promising new talent in the area of horror fiction.