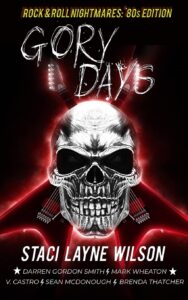 Gory Days (Rock & Roll Nightmares '80s Edition)
Edited by Staci Layne Wilson
Excessive Nuance (2021)
Reviewed by Andrew Byers
This is the third (and for now, final) volume in Staci Layne Wilson's series that combines rock & roll with horror, with each volume focusing on one decade. I reviewed the first two volumes here and here. Gory Days is Wilson's collection that covers the 1980s. As with the first two volumes, Wilson herself writes or co-writes about half the stories in this volume, with the rest by a variety of other authors. I can't detail each of the stories here, but let me go into a few of my favorites.
As appropriate for the 1980s, the theme of new technologies under development that have truly dystopian potential is a common theme. We see that most clearly in a long novella by Wilson, "Should I Slay, or Should I Go?" which is a wild romp that begins with a company that makes sophisticated sex robots and ends with these fembots forming a band and literally trying to take over the world. We also see technology fusing with the ever-present nostalgia for the 1980s—I've been guilty of romanticizing the '80s myself—in the time travel tale "Hip To Be Scared" by Darren Gordon Smith and Staci Layne Wilson. In this one, a young couple obsessed with the '80s even though they were born long after that decade ended is sent back to live in 1980s Los Angeles for a long weekend—if they can survive. Some really iconic cameos appearing in this one.
Some other favorites from the collection include:
"Don't Stand So Close to Meat" by Staci Layne Wilson: An excellent story about an insane crazy personal chef to a rock star who obsessively loves (and stalks) him. Some gruesome body horror here, which is always appreciated.
"Sharp-Dressed Manslaughter" by Sean McDonough: A great story about a disaffected teenager named Brett who drives across town to buy a new cassette tape by his favorite band, which is then promptly ruined by his car's tape player. He's then given a very special band t-shirt by a curio shop owner and, well, things go downhill from there. McDonough really manages to capture the feel of the '80s here.
"Dead Over Heels" by Mark Wheaton: Girl band The Roxies is on the verge of breaking up because one of its members is about to embark on a solo career that will likely eclipse the rest of the band. They play what might be their final show together at an amusement park when a zombie apocalypse breaks out.
As with the first two books in this series, Gory Days was a fun collection. Some nicely varied horror here, none that takes itself too seriously, but all good stuff. Recommended.