Horror World Book Reviews
August, 2010
**Please note. Reviews posted herein are copyrighted and are the exclusive property of Horror World. You may not reproduce any reviews in whole or in part without the express permission of Horror World. Please contact the webmaster with any requests. Thank you.**
* * * * * * *
Fatal Error by F. Paul Wilson; Gauntlet Press; 2010; 350 pgs.; $60 S/L; Tor Forge Edition; $25.99
Reviewing Fatal Error, the latest Repairman Jack novel is a bit problematic. The main reason is that for those who are new to F. Paul Wilson's character, this book would not be an appropriate novel to start the series. Though Wilson has tried to summarize the salient plot points of the Repairman Jack series as they were broached in Fatal Error, I believe a newcomer to the world of Repairman Jack would still be very confused. With that in mind, this review will cater to those who have cherished the series since the first novel (The Tomb) and have found themselves fidgeting worse than a crack addict waiting for their next Repairman Jack fix.
For those devoted to the Repairman Jack series, they will not be disappointed with Fatal Error. Wilson's imagination is in high gear with this entry; there are remarkable scenes of suspense and a surprising number of left turns that readers won't see coming. There is also plenty of action, plot development, and a prolonged focus on Jack himself in Fatal Error to keep all Repairman Jack fans more than satisfied.
As in the last few Repairman Jack releases, Fatal Error continues with the ongoing storyline which started in earnest with Bloodline and connects the Repairman Jack series to the Adversary series. Fatal Error picks up where Jacks last adventure, Ground Zero left off, continuing with the plot line of The One once again trying to kill The Lady and using The Order and The Kickers as a means to do so. And in Fatal Error, Wilson has come up with a plot device to kill The Lady that is so imaginative, scary, and realistic, that readers will be stunned by its originality and marvel at its simplicity.
And of course it wouldn't be a Repairman Jack novel without a "fix" of some kind, and in Fatal Error, Wilson just may have written the most brutal and jaw dropping fix in the series.
Munir Habib is an Arab who has married an American woman and together they have a young son. Munir is a software writer for video games who lives a very simple and somewhat secluded life, so he is bewildered when he comes home from work one day and discovers his wife and child have been taken. He receives a message from a racist madman who tells Munir that he has kidnapped his family and that if Munir ever wants to see them again he will have to do certain tasks. As it turns out, all of these tasks involve a self-debasement of some kind, and all done in a public setting. With a promise from the madman to let his family go if Munir completes the tasks, Munir agrees. But instead of releasing his family each time Munir degrades himself, the madman continues to make further demands, the latest involving mutilation.
Munir contacts Jack through a mutual friend, and while Jack sympathizes with Munir, he feels the case is too complicated for him, and he refuses. It is only after Munir receives a package and some photographs from the madman and shows them to Jack, that Jack is motivated enough to help Munir. What follows is a cringe inducing and bloody nightmare, one that loyal Repairman Jack readers have never seen the likes of.
With Fatal Error's primary focus on Jack, and with the action almost non-stop, readers will find themselves so engrossed in this tale they will be unable to put the book down. Those who have already read the last book in The Adversary series will be amazed at how Wilson is able to tie all the various plot threads together in Fatal Error and the prior Repairman Jack releases to make all the individual novels appear to be merely chapters in one seamless story. Fatal Error is without a doubt, one of the most captivating releases in the Repairman Jack series of novels.
It is my fervent hope that all these young people who have flocked to the Harry Potter books and the Twilight novels find their way to a Repairman Jack novel and discover how much more enlightening, fun, awe inspiring, and frightening adult horror fiction can be. I can think of no better literary gift to a teenager than to introduce them to the Repairman Jack series, starting with a copy of The Tomb, and let them discover for themselves how exciting and terrifying a horror series can really be.
-- T. T. Zuma
* * * * * * *
The Passage, by Justin Cronin; Ballantine Books; 2010; 766 pgs; $26.00
Unless you've had your head buried in the sand, by now you've at least heard all the commotion about The Passage. It's the summer beach read for genre fans in 2010. Does it live up to the hype? Does it live up to all the gushing and heaps of summer lovin' that Mr. Stephen King has bestowed upon it? In this reviewer's opinion: Yes.
Ballantine has a marketing juggernaut behind this release, both feeding the buzz, and feeding off it, and with good reason. Cronin gives this end-of-the-world vampire serum story room to breathe, with fully realized characters. Remarkably, at 766 pages, its pace will leave you stunned. There's never a dull moment. Nothing stops moving, yet like the book's cover artwork, Cronin never loses sight of the forest and the trees. He has a bigger picture here, but never fumbles his focus of the finer details. The prose is crisp, the chapters taut, and save for one or two action sequences that seem implausible, The Passage is a rare breed: it reads like a highbrow summer blockbuster movie that's both high concept and superbly crafted (and it's no surprise that Ridley Scott's production company snatched up the rights for a reported $1.75 million). It manages to get your adrenaline pumping, your heart racing, and still leave claw marks on your back long after you've put it down.
At times it's a high tech thriller, with its secret government experiments aimed to create super soliders (gone awry, naturally). A bit like Michael Crichton with a smidgen of F.Paul Wilson. But mostly it's heavy on the Stephen King. Justin Cronin owes more to Mr. King than just the million-dollar cover blurb. I hate to be the beach blanket party pooper, but The Passage is derivative. That's not a criticism, though, at least not in Cronin's hands. It's been favorably compared to The Stand for its post apocalypse plot. There are also elements of The Shining, prominent to one key character in particular. Ah, and the day-glo vamps. Vamps are in vogue now more than ever, but they haven't been portrayed with this much chilling bite since King's Salem's Lot. What does that say? It says that Cronin may have been a disciple of Stephen King, but what writer hasn't been influenced by "the King"? That's just the nature of the beast, or better yet, the mark of the beast. Any writer who has read King and tries to beat the man at his own game can't help but use some of the master's own tricks. Like King at his best, you will genuinely feel for these characters, and you will be treated to a tasty sundae bowl of escapism on a muggy July evening. The sum here is greater than its parts.
At its core, this is the story of humanity attempting to rise to the occasion in the face of pure evil. It's the story of a little girl trying to save the world…but that's just for starters. Additionally, it's the tale of a writer with big shoes to fill, as The Passage is the first in a trilogy. Jump on now and see what all the fuss is about.
--Joshua Jabcuga
* * * * * * *
The 13 Gates of the Necronomicon: A Workbook of Magic, by Donald Tyson; Llewellyn; 416 pgs; $21.95
The first time I read Lovecraft I did not like it. I think I just didn't get it. The writing and themes were a little too dense for me then and so I set it all aside. The second time through it read easier and I started to see things that had escaped me entirely when I was younger. You could say Lovecraft grew on me. And now, having read a good deal of what Lovecraft wrote, I hold that literature in high regard. And yet, unless you are a Lovecraft scholar (and there are many who can claim this title), the nuance and mythology of the world he created is difficult fully to comprehend.
Donald Tyson, the noted occult writer, has just published a work on Lovecraft that has as its aim to sort out the mythology and present it in such a clear way that it can be regarded as scripture. The 13 Gates of the Necronomicon synthesizes what Tyson calls the four threads of the Necronomicon mythos into an holistic religion and walks potential parishioners through the thirteen gates in the clearest and most precise presentation of the Cthulhu mythology I have ever seen. Tyson's book is an exceptional example of meticulous scholarly endeavor.
The book is generously illustrated and organized in a straight forward and intuitive manner. Exhaustively referenced, the volume also contains an annotated list of mythos works by Lovecraft, an extensive bibliography, and a complete index that makes looking up anything in particular very easy.
You do not have to be a zealot looking for a Cthulhu bible to be interested in this book. If you like Lovecraft's writing (and Smith's and other contributors to the canon) then this encyclopedic condensation of the world will make reading the fiction a much richer experience. Highly recommended.
--Wayne Edwards
* * * * * * *
The Book of Shadows by Alexandra Sokoloff; St. Martin's Press; 304pp; $34.99
Witches in modern day Salem have long been a trope without much innovation over the past few decades. Alexandra Sokoloff doesn't explode the subgenre with her latest offering but doesn't attempt to – her characters turn Book Of Shadows into a thrilling read that raises it to the high level of her previous efforts.
For those unfamiliar with her writing, she's taken readers from beautifully claustrophobic The Harrowing on a college campus to The Price, where a family deals with their own demons as well as her most compelling character to date to The Unseen, a fascinating story based on the real life experiments conducted by Duke University. Each novel eschews the familiarity of the previous one as Sokoloff pushes herself to new limits. Book Of Shadows borders on a noir-ish tone which is strong departure for her but it works, and well, just as all of her writing has.
Detective Adam Garrett delves into a seemingly by the book murder – a woman found in a dump with a goth musician dabbling in the occult who fits the crime a bit too well. The plot takes off from the point where he discovers "333" on her corpse (333? Read on, it's a pretty interesting take on numerology and departure from the typical doubling of said number. Because she's the daughter of a high profile Boston businessman, the pressure is on to solve the case ASAP. Garrett's lawyer girlfriend pushes the closing of the case even further, despite the discrepancies, along with his tough partner and politic hungry boss
When Adam meets Tanith, a "good witch," his world of reality begins to unravel. Mysterious yet grounded, she compels him to dig deeper into the murders as he begins to find that a frightening force might be at work. The action and dialogue speed towards an exciting conclusion that begs to be read in one sitting.
While many of the characters might at first appear to be of the cookie cutter variety, take the time to read and fall into them. Adam and Tanith's relationship border on many edges, ones typical and ones that will invoke the imagination to let go. The supernatural may or may not be involved, which set the story apart from so many similar novels. Sokoloff is a wordsmith who obviously loves the language but never runs away with it. She has a talent that can draw even the toughest reader into her stories and Book Of Shadows continues her assault on the horror and suspense genres.
As with all of her books, this one comes highly recommended.
--David Simms
* * * * * * *
Blood Oath by Christopher Farnsworth; Putnam Adult, 400 pages; $24.95;
As someone who has read more books than I would care to try to count, I've gotten pretty good at using the back cover descriptions to size up a books readability. And by that standard, Blood Oath had no business being as good as it turned out to be. The publisher description touts it as a book that will "Out-Bauer Jack Bauer! Out-Bourne Jason Bourne!"...But there's a twist! This Agent is....A VAMPIRE!
No thanks.
But......I'm not too big to admit when I'm wrong, and I was certainly wrong about Christopher Farnsworth's debut novel. Far from being a Bauer/Bourne pastiche, I've been describing the book to people as "Lethal Weapon meets The League Of Extraordinary Gentlemen".....Farnsworth introduces two very different protagonists, teams them up against a seemingly unbeatable foe, and throws in references and backstory from history, movies, and books, some of which are just astonishingly fun and clever.
Blood Oath hits the ground running, as young White House insider scores a punishment detail (He was caught in the Lincoln Bedroom with The President's Daughter....) as the new handler for a very special Agent: Nathaniel Cade, a Vampire drafted into service to the President. (This is apparently based an a true anecdote related by Charles Fort, where President Andrew Johnson pardoned a young man convicted of Vampirism.) Barrows and Cade find themselves drawn into a Terrorist plot involving an old foe of Cade's, Johann Konrad, an ageless lunatic who was the basis for Mary Shelly's Dr. Victor Frankenstein. Konrad and his benefactors are planning to use the parts of dead American Soldiers to create invulnerable patchwork Zombies to wreak havoc across the United States....starting at The White House.

This is all a LOT better than it sounds....Farnsworth brings a great deal of humor to the proceedings, and his casual way of tying Cade's dark past into various historical events, as well as a wide range of books and literature, is FUN, plain and simple. Cade's past exploits include Aliens, Angels, Demons, Lovecraft's Shadow Over Innsmouth, Friday The 13th, I Was A Teenage Monster, The Watergate break-in, The Mongolian Death-Worm, Night Of The Living Dead, and others. Blood Oath was that rare kind of book that you hear a lot about, but rarely encounter: The book you, literally, hate to put down. This is supposed to be the first book in a series, and I hope there are many more adventures in store for the duo of Cade & Barrows.
-- Daniel Reilly
* * * * * * *
Level 26 By Anthony E. Zuiker & Duane Swierczynski; Dutton Adult; 416; $26.95
The man who created CSI has now returned to tackle a different medium in this first of series of interactive novels about a new breed of serial killer. If his first script turned into the bleeder which spawned more frightening spinoffs than American Idol, then what will this foray into books do? He enlisted author Duane Swierczynski to add the stylistic flair to his plot, which is really nothing new, nothing viewers haven't seen on the small or big screen. However, it IS enjoyable and highly readable.
The book itself isn't why many people will buy it. Every twenty or so pages, the reader is prompted to type in a URL and up pops a short video which adds to the story. Far from shoddy webcam footage, this is grade A material in terms of quality and acting, not to mention giving that visual to the creepiness factor. The spider-like killer, crawling towards his victim while wearing an odd, zippered costume is enough to provoke nightmares for a week. The videos aren't necessary but add to the fun.
As for the plot, Zuiker states there are different levels to serial killers which reach up to 25. Yet there is one who transcends classification and stands alone, thus the title of the book. Proficient in his art, prolific in his field, Sqweegel (yeah, the name doesn't do much but perhaps that's the point here) taunts agent Steve Dark through the novel as the cat and mouse game grows taut. Again, nothing new here in the serial killer realm but with the online videos, LEVEL 26 makes for a fun time and hopefully, evolution into something that can match CSI in quality and scope.
--Dave Simms
* * * * * * *
Handling the Undead, by John Ajvide Lindqvist; St. Martin's; October 2010; 384 pps; $24.99
Several impressive novels have come out of Sweden in the past few months. In the area of crime novels, many have become addicted to Stieg Larsson's compelling Millennium Trilogy, featuring the character find of the last decade, the force of nature known as Lisbeth Salandar. In horror, there's the work of John Ajvide Lindqvist, author of the 2004 vampire novel Let the Right One In (published in the US in 2007 as Let Me In), and the more recent Handling the Undead, to be published in the US later this year. Like Larsson, Lindqvist brings a fresh perspective to his genre work; whether it is cultural, or unique to these authors, it's difficult to say. What is certain is that it makes for seductive writing, the kind you can't wait to recommend to friends.
In Handling the Undead, Lindqvist writes about a phenomenon that strikes the city of Stockholm: after a strange, unexplained power surge, the recently dead return to an eerie semblance of life. Obviously caught completely off guard, the city's still living denizens struggle to cope with and understand what's happening.
Lindqvist excels at portraying these struggles, detailing the believable reactions from the government, medical personnel, and family members. It is the latter that provides most of the emotional power of the novel, as the living, only recently beginning to cope with the deaths of their loved ones, must now deal with their reappearance as literal shells of their former selves. These zombies, or the "re-living" as they are soon dubbed, aren't the repulsive, nasty, dangerous, flesh eating creatures you are used to; rather, most are passive blank slates, much like someone stricken with Alzheimer's. Their resurrection and "quasi-living" physical states create many questions: What are they? Why are they? Who is responsible for them? Do they have rights? What does the future hold?
As is the case with several vintage dark fantasies, books like Kevin J. Anderson's outstanding Resurrection, Inc., Stephen King's horrific Pet Semetery and Chet Williamson's classic Ash Wednesday, Handling the Undead forces the reader to consider his or her own responses to illness and death. This disquieting subtext, along with Lindqvist's considerable skill in bringing his characters to vivid life on the page, and the disturbing set pieces he places them in, make this novel required reading for horror fans. Just be sure you set aside a decent block of time after opening it, as it's almost impossible to disengage once you've flipped through those first few pages.
-- Hank Wagner
* * * * * * *
Crossed, by Garth Ennis and Jacen Burrows; Avatar Press; 2010; 240 pages; $24.99
This is a graphic novel. For those not hip to comic book lingo, a graphic novel is often a collection of separate issues of an ongoing comic book series, with a shared story arc, collected together in a book. While that is a technical definition of this work, it doesn't even begin to do it justice. Crossed is the newest story by acclaimed comic book author, Garth Ennis, of Preacher fame, or is that infamy? It is his take on the zombie genre, but instead of the undead flesh eaters of Romero's Dead films, think more 28 Days Later's living but mindlessly violet "zombies".
This book collects the first ten issues of the original comic book miniseries. As such, it is a complete story unto its self, so in this instance this graphic novel actually get the "novel" part right. Complementing Ennis' disturbing tale is equally disturbing images by artist Jacen Burrows. If you are easily offended by either words describing, or illustrations of, crazy people doing awful things to other people, then this isn't the book for you. However if you can stomach that, then you're in for a hell of a ride with this book.
The title of this story comes from a strange cross-shaped rash that appears inexplicitly on the faces of the majority of humanity one day. Those that bear this mark become grinning, cackling murder machines. Their humanity erased, the crossed only desire to slaughter, torture, and rape anyone unlucky enough to cross (heh) their path. The nature of this affliction is never revealed, as would be the case if you were suddenly plunged into a continuous life and death struggle where your only goal was to survive for one more day. That ongoing mystery, while it may be aggravating to some, I found to be a nice change from when the nature of unknowable evil is too often explained away in other books and films.
In this world of murderous mayhem we follow the trials and tribulations of a small band of survivors on their way to Alaska. They hope that the extreme cold up there will keep the crossed at bay since the homicidal maniacs are so fixated on violence that they often forget the little things like wearing clothes. Along this dangerous journey the survivors' ranks swell and decrease (mostly decrease) as they run into both other survivors and the feral crossed during their trek. The main characters are given plenty of time and opportunities to grow and get fleshed out, so in the end they are better developed than many characters in "real" novels. But rest assured gorehounds and action junkies, in this book the ultra violence is never gone for too long.

If want to read a truly graphic novel with a unique take on the recent literary zombie boom, then you'll be hard pressed to find a better story than Crossed in any format. I highly recommend this graphic novel to any fan of extreme horror who can stomach such subjects as rape, torture, the murder of children, and other such pleasant topics. Yes, Crossed is not for the faint of heart, but it rewards those that can make it through its pages with a hell of a hellish story.
--Brian Sammons
* * * * * * *
Sally Pinup, by T. M. Wright; Novello Publishers; 2010; 90 pgs.
A few months ago I read T. M. Wrights, Blue Canoe, and now after reading Sally Pinup, I can't help wondering just who the hell T. M. Wright is.
Is he (as he describes his main character in Sally Pinup) a well intentioned, somewhat overweight, fairly intelligent, though not-at-all imaginative, person living a quiet life in a mid-size city in northern New York State who just happens to write thought provoking, though somewhat bizarre novels? Or is he a former hippie, extremely intelligent, who might have done one too many acid trips in his early years and is experiencing flashbacks that manifests itself in some truly thought provoking, though somewhat bizarre novels?
But I think I'm wasting my time trying to figure out who T. M. Wright is. After being scolded by another author once when I tried to do the same with him, I realize that you should never confuse the author's work with the author himself. But you know what? In T. M. Wrights case, there's something about his fiction that makes you want to bring out the psychoanalyst in you, his work is just too compelling not to do so.
In Sally Pinup, Wright gives us Denver Whitehouse, a man with more than a few ex-wife's who is leading a pretty solitary existence. One day a beautiful young woman materializes in his home asking him to murder the person who killed her. All she will tell Denver is that the killers name is Bill, and that she inhabits an alternate existence from Denver's. What follows is a hallucinogenic journey with Denver meeting various characters from his own life and Sally Pinup's. Oh, there's also a cat involved. And as with Blue Canoe, the reader is given all sorts of clues to the mystery.
We are of course a witness to Sally Pinup and her developing relationship to Denver, but the clues Wright peppers us with are conflicting and purposefully confusing. Is Sally Pinup a real ghost or a product of Denver's mind? Does Denver's constant reference to orgasms indicate a sexual perversion and is it linked to the fact that Sally Pinup's body hair was shaved completely after her death (except for her beautiful head of red hair)? Did Denver just fantasize sexually after his step mother or did he actually have sex with her? Is the Uncle that often comes to visit and offer advice alive or dead? And of course the biggest question is, did Denver once kill Sally Pinup and is this whole episode a product of a guilty mind?
Wright often writes about the fallacy of memories in Sally Pinup, questioning if our recollections are really to be trusted. Do we distort past occurrences to fit the sanity of our lives? Do memories haunt us, or in Denver's case, could we be haunting our own memories? As in Blue Canoe, a phone figures in the narrative. It rings throughout the story, but when Denver answers it there is nobody at the end of line. When someone finally does speak on the other end, the message is jarring and frightening. Is the phone a metaphor for Denver's sanity, or is it just a scary plot device to support the ghostly plot line? Readers will have to decide for themselves.
Wright doesn't make it easy for readers to decide if an actual haunting is taking place or if we are witnessing the mental breakdown of man who may have done something hideous in his life. But that's the joy in the reading. Just when we think we may have a handle on the story, along comes another chapter that blows our theories to hell. Sally Pinup is one heck of an entertaining, interesting, and disturbing story that will take readers into a thought provoking, if not mind blowing, journey into the mind of a haunted man. As to who's doing the haunting, that will be up to the reader to decide.
-- T. T. Zuma
* * * * * * *
The Big Bang, by Mickey Spillane & Max Allan Collins; Houghton Mifflin Harcourt; 266 pgs; $25.00
In the years after World War Two, Mickey Spillane pushed the limits of the crime novel, taking it to new heights (critics would probably have called it new depths, but Spillane famously disdained critics) of sexuality and violence. Although they would be considered tame for the most part by modern standards, they were an important milestone in crime fiction. Spillane's most famous creation was hard-nosed private detective Mike Hammer, who would be featured in thirteen novels published in Spillane's lifetime. Hammer was like his creator a war veteran, and quick to use his fists and gun.
After Spillane's death in 2006, he left behind uncompleted manuscripts featuring Hammer, and these have now been finished by his friend and fellow writer Max Allan Collins, author of the Nate Heller series and Road to Perdition. The first novel produced by this posthumous collaboration was The Goliath Bone, published in 2008, and now comes The Big Bang.
Set in the 1960s, The Big Bang finds Hammer in fine form. Despite recovering from a knife wound sustained in a previous adventure, Hammer is quickly involved in a fight with three street toughs attempting to rob a bicycle messenger. Following the threads of the assault back to their root cause plunges Hammer into a case involving narcotics trafficking. You can be assured the road to the solution will be strewn with the bodies of dead thugs and wanton dames.
If you are a Mike Hammer fan, all the familiar elements are here: the loyal and long-suffering secretary Velda, Hammer's cop friend Pat Chambers, and so on. Like the other novels, Hammer inhabits a unreal world of hyper-violence and sex. This should be just what Spillane's fans are looking for.
--Joe Howe
* * * * * * *
Shamra Divided: Book Two of the Shamra Chronicles by Barry Hoffman; Edge; 301; $12.95
Barry Hoffman continues his YA trilogy with Shamra Divided and Dara, his young heroine in this important book for anyone with kids or teaches them. Curse Of The Shamra introduced readers to the spunky girl who learned some tough life lessons while preparing to lead her people. Short story features Glimmer, The Crystal Caves, and Life Lessons continued her growth process as she matured with her society while discovering the truths of life's darker areas.
This time, Dara and her sidekick, a Bauble, delve into the darkest part of the forest with her ragtag group of warriors to escape the evil which has overrun her homeland and threaten their way of life. Within the darkness she discovers the truth about her heritage, who her true friends are, and what beliefs are worth holding onto – all while trying to stay alive. For within the forest lay an ancient enemy, Chaos, who awakens and forces her to gather her people together to defeat it.
Hoffman has shown before that this series is ideal for learning many of life's lessons, from making friends to keeping true to yourself to making decisions and living with the consequences of what you choose. First, he gave away 10,000 copies of Curse Of The Shamra. Now, by signing up for the newsletter, readers are eligible to win many Shamra prizes – a marketing tool that many YA authors could benefit from while building a fan base. Many a lesson plan or family discussion can be derived naturally from these stories while reading a book which is actually worth reading – and fun.
-- David Simms
* * * * * * *
Dead But Dreaming, edited by Kevin Ross & Keith Herber; Miskatonic River Press, 2008; 210 pages; $17.99
Some years ago a very small press did a very small print run (less than 100 initial copies from what I heard) of a new anthology of Lovecraftian-flavored horror called Dead But Dreaming. That publisher, Dark Tales Publication, then promptly went out of business, thereby ensuring no more copies of DBD would be printed. If that book wasn't any good then no one would have cared, and the little tome would have faded away into the horror history books without so much as a whimper. However, by all accounts, Dead But Dreaming. was amazing! That meant that very soon copies were being hocked on eBay for hundreds of dollars. Not bad for a small press anthology that was only a few years old. However it was very bad news for any Cthulhuhead like me, that didn't already have a copy of what everyone "in the know" was calling the breakout book of new Cthulhu Mythos fiction.
Three cheers, a couple of chants of praise, and a blood sacrifice must then go out to the guys at Miskatonic River Press from bring this book back out, in a much wider release, so that cultists everywhere can enjoy it. But was all the hype warranted? Is this book as good as some said, or was that just the old, "I got it, you don't, so boy did you miss out on something great," game that some people like to play? Well let's crack the cover and find out.
Editors Kevin Ross and Keith Herber are names well known to fans of the Call Of Cthulhu role playing game, but could these two chose brand new stories that actually do something new with the weird and wonderful world that H.P. Lovecraft made oh so many years ago? For the most part, that is a resounding yes! Dead But Dreaming. collects fifteen stories by a nice cross section of authors. Some of these people won't be household words, a lot of names I'm sure you'll recognize, and only one can truly be regarded as famous, but all of the writers, with only one or two exceptions, turn in some truly amazing stories. If you are a true fan of the weirdness that most know as the "Cthulhu Mythos" then you'll love this collection. If on the other hand you just like reading stories that mimic Lovecraft's signature style and voice, oh I guess you could call such stories pastiches if you were feeling uncharitable, then you might actually be disappointed with what you find here. There are actually a few stories in this anthology that I could imagine some HPL fans wondering why they had been including in this book. For me, that was a good thing. While I like the stories where Cthulhu comes kicking down the front door, smacks the protagonists upside the head, and shouts, "BOO!" as much as the next guy, I also appreciate the tales where the creepy cosmic dread is used far more subtly. Luckily for me, Dead But Dreaming. has both kinds of stories.
Now none of the stories were bad, but I did like some more that others, and some were just downright amazing. Instead of going over all fifteen stories, I'll just shine the light on the tales that really floored me, or the ones I had the most fun reading. And since I mentioned fun, I'll begin with "The Call of Cthulhu: the Motion Picture," by Lisa Morton. I really enjoyed this one about what happens when someone makes a shockingly realistic adaptation of this most famous Lovecraft story. Well I bet you can guess how such a thing will not end well, but reading this story was an enjoyable ride regardless. Keep an eye out for a very special cameo in this one.
I've always enjoyed stories that mix the horrors of war with the horrors of the Cthulhu Mythos, so Stephen Mark Rainey's "Epiphany: A Flying Tiger's Story", was right up my alley. It's about a World War II fighter ace in the Pacific discovering a new enemy to hate in the form of a large Lovecraftian horror. If you like guns, guts, and gibbering madness, you'll dig this one.
The one inarguable Mythos Master found within this book is Ramsey Campbell. With "The Other Names" he shows once more why he's repeatedly earned such accolades. What on the surface is a rather simple story about a rather simple lad finding a few loose pages of an old book in an abandoned old house turns into something truly creepy when he starts reading the strange new words found on those pages. Oh, did I mention that the pages are from the Necronomicon? Only a master like Campbell could take such a premise and really make it work so amazingly. I loved this one to pieces.
Hey, remember when I said I like war-torn Mythos tales? Well then oh happy day for me as Dead But Dreaming. had two such stories, and both of them were great. "The Unseen Battle" by Brian Scott Hiebert is about a man trying to escape the horrors of the Great War in the tropical paradise of Tahiti, only to have horrors of another sort follow him.
David Barr Kirtley's "The Disciple" is one of the more traditional Lovecraftian tales to be found here. However in no way does that lessen its effectiveness or the enjoyment I had while reading it. The story takes place at the heart of higher horrific learning, Miskatonic University, and centers around a select group of students, a very special professor, and the unusual extra credit, after hours study group they all belong to.
I really could go on and one, but as a man far wiser than me once said, always leave them wanting more, and Dead But Dreaming. is definitely a book you should want more of. Now that it is far more easily obtainable, and more reasonably priced, there is no reason any fan of Lovecraftian horror should not own a copy. Consider this one highly recommended by me.
-- Brian M. Sammons
* * * * * * *
Blood & Gristle by Michael Louis Calvillo; Bad Moon Books; 301pp; $21.95
Michael Louis Calvillo burst onto the scene a few years ago with the Stoker finalist I Will Rise, then followed up with the Black Quill Award winner As Fate Would Have It. His third effort, the short story collection Blood & Gristle, shows a depth only hinted at in those novels.
The first three stories cements any respect Calvillo should have from his fans and display his evolution as a writer. "Head Two" is one of the oddest tales in memory as three children in a warped family wake up each day and dress themselves in body parts – not additional ones – but heads, torsos, etc that carry with them a certain status and function reminiscent of Joe Hill's "Pop Art" and Cliver Barker's "Body Politic" but still, much, much different. "Chekov's Children" tackles addiction and group therapy in a sick manner but "The Box" is not a knockoff of either Matheson (Button, Button) or Ketchum. The longest tale in this collection, it's also the best and deepest.
Despite the title, Calvillo fills this collection with not blood and gore but muscle and heart, along with the brain of a very warped but charmed individual.
--Dave Simms
* * * * * * *
The Frenzy Way, by Gregory Lamberson; Medallion Press; 2010; 356 pgs.; $15.95
After receiving a pretty good reception with last years Johnny Gruesome, it appears as if Gregory Lamberson decided to change it up a bit on his next novel. With The Frenzy Way, Lamberson has decided to forgo extreme horror on this outing and take a more moderate and trendy route…he has penned a werewolf novel.
If you're like this reviewer, a sigh might have slipped from your lips when you read the word "werewolf". After all, aren't werewolf's the runt of the holy trinity of tired horror tropes (along with zombies and vampire's)? But you never know, maybe Lamberson has written a spectacular novel full of clever plot points, fresh ideas, and invigorating characters. So with some apprehension, I plunged in.
The majority action in The Frenzy Way takes place in New York City, where we discover that the police are baffled by a string of grisly murders. It seems a madman, who may be dressed up as an animal, is savagely killing people by ripping them to pieces and then tearing their heads off. Assigned to lead the cases is a detective named Patty, who's as tough as nails and attractive to boot. Along for the ride is her supervisor, Captain Anthony Mace, who has become a local hero for catching a serial killer and is under pressure to bring this killer in. And it doesn't help that he must constantly reassure his superiors that Patty is up to the task. The problem is, neither Mace or Patty are quite sure who, or what, they are up against, no matter how many obvious clues come their way.
Though there are witnesses to the killing who describe the assailant as a wolf who walks on two legs, and that the killer writes various words in the victims blood that mean werewolf in various languages, not to mention that even with DNA that indicates the killer might be some sort of animal, Mace, Patty, and the rest of the police force refuse to believe a werewolf is loose in New York.
It finally takes two people, one a policeman from an Indian reservation, the other a female werewolf who runs a bookstore, along with the gruesome deaths of some important characters, to finally convince Mace to disregard his inner skeptic and come to terms that he is battling a werewolf. This brings us to the climax in the novel where Mace fights the werewolf, toe to claw so to speak.
The Frenzy Way is an enjoyable novel that should please fans of both Lamberson and the genre. It is extremely well written and plotted darkly enough to please casual and dedicated horror readers. The Frenzy Way held my interest through the entire story, and the climax is exciting and action packed, but if a long time horror reader is looking for Lamberson to bring something new to the table in the werewolf genre, I'm afraid they will come away from this novel thinking that it's all been done before.
-- T. T. Zuma
* * * * * * *
The Philosophy Of Horror edited by Thomas Fahy; The University of Kentucky Press; 247pp; $35.00 HC
Any true aficionado of horror, whether it be cinematic or literary knows that it holds many layers, delves into the psyche much deeper than many other genres, and has been a part of not only books, plays, movies, or art as long as or longer than man could remember. Horror breathed its hot breath down humanity's neck long before Homer, long before Shakespeare, and in every culture, shaping people and their beliefs into the forms which are presented in this predominantly academic collection of essays.
Thomas Fahey has compiled a great collection of essays tackling many of the topics and tropes found in horror, both yesterday and in centuries gone. From "The Birds" scene in a diner where society is dissected to pieces of David Hume's philosophy on the same to "Hostel" and "The Hills Have Eyes," this volume spans several minds and schools of thought. True, torture porn holds no intelligent value for most – but is it supposed to stimulate the mind? However, it's explored why audiences crave this subgenre and why filmmakers found a goldmine. From the usuals such as Stephen King and Mary Shelley, to Suskind's masterful Perfume, topics of isolation, norms, and family are examined here. Kant, Descartes, Jung, and others are utilized in order to illuminate horror's intrinsic values in a manner most fans would never have guessed before. The essay on Capote's Cold Blood is by far the most complete and chilling, not only for its subject but for the manner in which the small town mentality was decimated by the events which happened and through the book (which many have not considered horror). The only parts of the collection which seem to stretch credibility are obvious – Twilight references (the movie, not the book). Notes on Buffy have been circulating for years now and do touch on several key issues, neatly tied up and discussed in its own section. How The Black Cat analyzes European versus American sensibilities, especially postwar, is fascinating and for those who haven't seen the movie, please check it out after reading the section. Second only to the chapter on Capote, this piece illuminates several taboos and areas of American ignorance in that time.
Not for the everyday reader or for the strictly academic, The Philosophy Of Horror falls somewhere in between, but in a very special and very crucial notch in the genre. Recommended for the deeper horror fan or for any writer who would like to sink his or her teeth into something substantial, this book will entertain and inform on many levels.
--Dave Simms
* * * * * * *
Cthulhu's Dark Cults, edited by David Conyers; Chaosium Inc, 2010; 239 pps; $14.95
You've got to give H.P. Lovecraft a lot of credit. Not only did he have a truly unique vision of horror in a time when ghostly chain rattling was all the rage, but that vision has impressed and inspired countless authors of the macabre for years, decades, and now almost a century after the gentle man from Providence first put pen to paper. If that was all that HPL's only legacy he would still have a place firmly cemented as one of the great authors of all time, even if there are still plenty of people now days who don't have a clue as to who he was, but Lovecraft did something else that set him apart. Something that few authors, then or now, are gracious enough to do. He invited, welcomed, and fostered other authors, both his contemporary piers and the up-and-comers, to join him in his cosmic evil reindeer games. That tradition continued long after Lovecraft's untimely death and many masters of horror first cut their creative teeth by building upon and expanding the weird, wonderful world that Lovecraft created. Robert Bloch, Ramsey Campbell, and Brian Lumley all began as acolytes in the Church of Lovecraft. Other story tellers such as, Stephen King, Neil Gaiman, Peter Straub, and filmmakers John Carpenter and Guillermo Del Toro, to name only a few, have all admitted the influence that Lovecraft's stories had on their own creative processes. Now comes Cthulhu's Dark Cults to carry on that grand tradition, but is this new anthology from publishers Chaosium, the makers of the Call Of Cthulhu role playing game, up to carrying the guttering torch of the Cthulhu Mythos a few more feet down the dark and winding path of horror literature? Well grab your Elder Signs, cross yourself and bring a gun along if that makes you feel any better, not that either will do you much good here, and lets go investigator the bizarre, insane, and bloodthirsty cults devoted to damnable Great Old Ones.
First let me applaud artist Steve Gilberts for a truly great looking cover that precisely evokes what you can find in this book. Good looks aside, credit for this anthology must first and foremost go to David Conyers who pulls double duty as not only this collection's editor, but also as an author of one of the best stories in this book. I have come to expect great things from Mr. Conyers as I've become increasingly familiar with his work, and with, "Sisters of the Sands" he has once again impressed me greatly. I won't say that it is the best of the book because there are so many great stories to be found in here, but I will say it would be on my short list if I had to choose one.
"The Nature of Faith", by Oscar Rios is another great tale and one that took me by surprise on a few levels. The greatest reason for my happy surprise was that in a book all about nasty evil cults, this story tackles that subject from a refreshingly different angle. The other reason was my own ignorance of Mr. Rios' writing. While I knew he had penned scenarios for the Call Of Cthulhu game, I wasn't familiar with his fiction. I now hope to rectify that as quickly as possible.
In a similar vein, while I recognized many authors in this book, there were quite a few I didn't. Of the tales by these "unknown authors" (to me, at least) there wasn't a one I didn't like. Penelope Love's, "The Whisper of Ancient Secrets" was another tale that got big points from me for daring to have a protagonists with a different POV on the subject of evil cults. "Perfect Skin" by David Witteveen, while more traditional in theme, was nonetheless a cracking tale and one that could see easily appear in any non-Lovecraftian inspired anthology. Hmm, both of these authors are Australian, as is Mr. Conyers. I will have to thank him for opening my American eyes to some truly great terror talents from the land down under.
That is not to say that the North American authors I was already a fan of fell short with their tales. Only that since I already knew that they wrote well, I was less surprised when reading their fine tales. Cody Goodfellow, John Sunseri, and John Goodrich are all established masters of the Cthulhu Mythos who's stories here didn't disappoint.
Now not all stories were winners, but the majority are. If I did have one gripe with this book, it would be the setting. This anthology was meant to have strong ties to the Call of Cthulhu role playing game. Because of that, all the tales are set in the 1920s and 1930s so as to have connections to the RPG which is also set in that era. While that historic time worked for most tales, others seemed much more modern and almost shoehorned into their assorted years. I would have much rather had stories set in whatever era that best allows them to tell their tales, but this is a minor misstep at best, and one easily overlooked when you take into account the quality of the majority of stories this book collects.
If you are a fan of H.P. Lovecraft you will probably like this book if you're interested in seeing a new generation of authors continuing to expand upon his world of horror. If you are a fan of the Call of Cthulhu game and wanted to get a better idea of the works that have inspired the game you love playing, this book would be a great place to start. Or if you just want to add a little bit of cosmic dread into your daily life, then once more this tome is for you. Ia Ia Cthulhu's Dark Cults!
--Brian M. Sammons
* * * * * * *
Terminated by Simon Wood; Dorchester Publishing; 2010; 326 pgs; $ 7.99
Horror fans might not be familiar with Simon Wood, the author of Terminated, but they may recognize his pen name, Simon Janus. Under that name Wood has written some excellent small press horror novels, one of his more popular was the excellent novel, The Scrubs. Being a huge fan of Wood's horror output I was extremely curious about his thrillers and wondered if I would care for them as much, so when this one was released I jumped on it.
Terminated is an action packed thriller that centers on the story of Gwen, a newly promoted Manager Of Quality Assurance at Pace Pharmaceuticals. One of Gwen's tasks is to give performance reviews of the employee's who work for her, and one of those employees is Stephen Tarbell, a man she had beat out for the promotion.
Tarbell's performance review is poor and unfortunately for Gwen, he doesn't care for it at all. Tarbell believes he was the best person for the job and that Gwen only received the promotion because she was woman. He asks her to change the review and when she refuses, Tarbell decides to not only get mad, but to get even.
Like a freight train leaving the station with a full head of steam, it doesn't take long for Terminated to reach full throttle. From the very start of this locomotive-like thriller there is no let up in the action or the tension. For instance, in the lead off chapter of the novel readers are jolted when reading of Tarbell's first assault on Gwen, and from there on, the novels plotting escalates, subjecting the readers to a steady pounding of emotional and physical violence.
Wood's does a superb job creating tension throughout Terminated with action scenes that are inventive and believable. His characters are realistic, especially Gwen, who is written as a smart, professional businesswoman who never sacrifices her sensibilities as a mother and a wife in her struggles.
If you're a Simon Janus fan you owe it to yourself to pick up Terminated, and if you're a lover of superb action oriented thrillers, Terminated will be right up your alley.
-- T. T. Zuma
* * * * * * *
How to Make Friends with Demons, by Graham Joyce; Night Shade Books; 2010; 298 pgs; $14.95
If you've ever wondered how Frank Capra's It's a Wonderful Life might play if it were filmed by Nick Cave & The Bad Seeds, look no further. William Heaney is by some counts a functioning schizoid, a man-whore with a heart of gold, a charity case in search of a cause, a complete nutter, or just a hopeless romantic. He's haunted by personal demons, the kind that influence not the decisions one does make, but more significantly, the decisions one avoids making. Perhaps he's been burned too many times, and only now is this reality completely coming into bloom as he begins to grow older, if not yet wiser. "As far as I'm concerned, the crisis started when as an infant I was removed from the maternal breast and the situation will continue to remain critical until I am comforted by the black teat of death."
William Heaney sees demons. Everywhere. In fact, he's identified one thousand five hundred and sixty-seven of them. Life must go on, but how, what with all these temptations and the fear and loathing and soul-sucking baggage of a man just past his prime, alone with his demons. His family has splintered, but it's just another repercussion of a past crammed with irrational decisions based on insecurities that have caught up with him like the karma police. You only have so many fingers to plug the holes. Sooner or later another leak will spring, leaving you soaking wet and cold and extinguishing all the fires that burn in your heart.
William's wife has exited the picture for a celebrity chef. His children have grown and distanced themselves. Maybe he deserves it. After all, his life has been one of personal deception since his days in college. That's when he began a side career in antiquarian forgery. There's lucrative money to be had in faking old manuscripts, perhaps because some people confuse love with holding onto the past. Unfortunately, one of these books involved satanic rituals. It was gibberish, thought William, until it fell into idle hands on campus. When certain locks are broken, it leaves behind doors that can never be forced shut again, if that's what you want to believe. And so bizarre things, nasty fates, awaited William's ex lovers. He saw no choice but to try to outrun the demons himself, not realizing one can't escape their own fears unless they face them. That's a lesson wasted on a young man, with hands not yet calloused, and with a grip still firm enough to break and bend hearts like steel bars.
The worst guilt trip is the one where you venture off out on your own, with each day bringing you one step closer to forgiveness, and two steps back to square one, deeper in the hole. Graham Joyce takes his reader on a bittersweet journey of redemption. To have lived and to have loved and all that. Just remember: every time a man falls in love a demon gets his wings. But that's no sin. It's just a happy ending.
Joyce has created something exceptional here, and it ranks up there with Neil Gaiman's finer works.
--Joshua Jabcuga
* * * * * * *
Android Karenina, by Leo Tolstoy and Ben H. Winters; Quirk Books, 2010; 541 pps.; $12.95
It started with zombies and Jane Austen and from there the publishing world went nuts, mining the classic titles that were so old as to be part of the public domain (and therefore free to plunder) and mashing them up with all sorts of genres. Usually the genre was horror, and then usually it was a certain kind of horror. Let's see if you can guess what I'm hinting at. There's a War Of The Worlds novel with zombies, an Alice In Wonderland book with zombies, Huckleberry Finn with, yes, zombies, A Christmas Carol with…wait for it…zombies, and another book by Jane Austen, in this case Emma, with…wait, werewolves? How did that get in there? Whatever, some of these books are good, others are not, most have zombies, and this is but the tip of the Titanic sinker of the classic mash-ups available. So what's one more title added to the growing list?
That book in question is Android Karenina and it does have a few things going for it to make it stand out in the mash-up herd. First, no zombies, and that's a very good thing. Second, it's done by Quirk Books, the publishers that started this new subgenre with Pride And Prejudice And Zombies. Third, it's not flavored with horror, but uses sweet, scrumptious science fiction instead. And forth, at 541 pages, it is easily one of the longest works to be given the rework treatment.
So it's different, but is it good? Well if you like the idea of classic Russian literature mixed with steampunk sci-fi, then this will be the book for you. The social commentary and love stories of the original novel remain, but they have been reshaped around a tale of machine evolution, and perhaps revolution. Thanks to the wonder of a mysterious element called "groznium", high-tech machines are everywhere. Steam trains have been replaced by gravity defying monorails, butlers have been made obsolete by robots, and most people of wealth have cybernetic alter egos that accompany, aid, and perhaps even influence them. Now while the idea of robots in 19th century Russia may seem jarring, I have to give a lot of credit to author Ben H. Winters, as he blends the world of automatons and Czarist melodrama almost seamlessly. So much so, that if it has been a long while since you've read the original tale, or if you've never read it at all, it is sometimes hard to see where the parts of the old story end and the new one picks up until a clockwork soldier walks into the scene.
If I had one complaint with this book it would be character overload. All of the characters from the Tolstoy original are here, but then Mr. Winters adds even more. At times I needed a scorecard to keep track of everyone, their actions, and in some instances, their secret machinations. This is a minor thing, but with a book this long and winding, one that kept nagging at me from time to time. Also, this book is not nearly as funny as Quirk Book's earlier Jane Austen zombie mash-ups. That doesn't mean this novel is better or worse for that, it's just not as funny, so fans of those books looking for similar wacky fare here may be disappointed.
In the end I liked Android Karenina. It was a bit dryer, and a lot longer, read than the other Quick Classic books, but I liked that it tried new things such as going with Tolstoy instead of Austen once again, and leaving the horror behind (yeah, I can't believe I just said that either) in lieu of science fiction. If you're a steampunk fan, a Tolstoy fan, and especially if you're both, then I highly recommend this book to you.
--Brian Sammons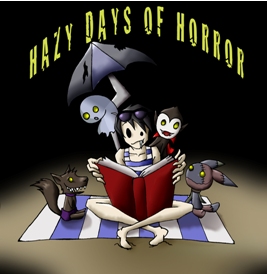 Enjoy the Hazy Days of Horror with our Partner Sites
Many thanks to Dylan at Monster Librarian for putting this together
Previous reviews now appear in the Archives