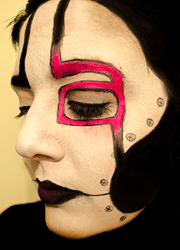 For decades, superstitious hoteliers have worked to eliminate all traces of the 13th floor. However, a hotel brave enough to not only have a 13th floor but to celebrate it presents an experience sure to transport guests into the spirit world.
This Halloween, guests can test their luck and face their triskaidekaphobia (fear of the number 13) by spending a night in Boston's only room 1313 on the 13th floor of the Aloft Boston Seaport.
From Oct. 26-31, the hotel is offering a one-of-a-kind Halloween experience that will deliver full immersion into the spirit of All Hallows' Eve. Guests will be spellbound by the world of the occult, mysterious and terrifying through the hotel's Room 1313 package, which includes:
One night in room 1313, decorated in haunting design that's sure to inspire nightmares.
Join the zombie community as professional makeup and costume artist Chatel Cunha from the "Factory of Terror" makes over two guests into ghoulish creatures.
Two complimentary "Bobbin' for Apples" cocktails from the W XYZ bar along with Halloween-themed light "bites" served in-room. This special seasonal drink includes: spiced rum, vanilla vodka, fresh lemon juice, cinnamon simple syrup, hard apple cider, and a garnish of cinnamon sugar and cinnamon stick
Private transportation to/from the city synonymous with Halloween – Salem, Mass.
An evening of haunts and celebrations in the historic "Witch City," complete with a thrilling itinerary of scheduled events.
Room rate is $1,313; the package is available from Thursday, Oct. 26 to Halloween night, Tuesday, Oct. 31. For more information on the Room 1313 package, visit http://www.aloftbostonseaport.com/halloween-package… if you dare.
About Aloft Boston Seaport:
Located in the thriving Seaport district in Boston, the Aloft Boston Seaport brings 330 rooms across the street from the Boston Convention and Exhibition Center and Lawn on D. For the 'always on' next generation of traveler, the Aloft brand offers a tech-forward, vibrant experience and a modern style that is different by design. Aloft Boston Seaport offers nearly 10,000 sq. ft. of meeting space, 10 voice-activated rooms, a robot butler, and an emoji-only room service menu. The hotel lobby area also features the signature W XYZ bar and hosts the Life at Aloft Hotels concert series. For more information, please visit http://www.aloftbostonseaport.com.